It would seem that the reports that HDX was dead and buried may have been somewhat premature. At NAMM 2020 Avid is announcing two Thunderbolt 3 chassis solutions for Pro Tools HDX cards as well as a range of packages built around their new Thunderbolt 3 chassis. We have the details…
These new products announced as 'coming soon' will mean that Pro Tools HDX will finally be Thunderbolt 3-compatible once they are released.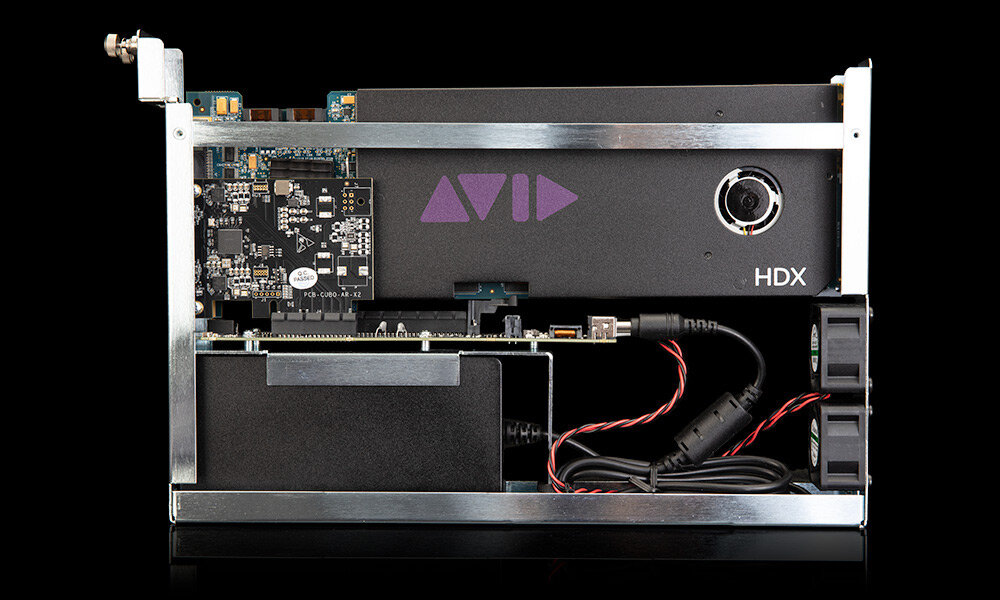 If you already own an HDX card, then you can upgrade your system with the Thunderbolt 3 chassis, and take advantage of tapping into a range of Thunderbolt 3 equipped computers. No more Thunderbolt adaptors.
Although until they are released we won't know the exact compatibility details, including Windows support.
Avid has designed the TB 3 chassis solutions in conjunction with Sonnet, to enable users to be able to configure either a totally self-contained 1U rack mount HDX system that can house both an HDX card and a Mac mini, or if you prefer, a desktop solution to take an HDX card to use alongside a computer like an iMac Pro or MacBook Pro.
Specifications
Form factor
Available as a desktop or rackmount chassis; desktop and rackmount conversion accessories also available as options
PCIe connectivity
One expansion slot for a Pro Tools | HDX PCIe card (sold separately)
Thunderbolt connectivity
Two Thunderbolt 3 ports—one for computer connection and one for daisy-chaining up to five additional Thunderbolt/USB devices
USB connectivity
One USB 3.0 port on the front panel of the rackmount chassis
Mac mini enclosure
Internal enclosure to secure optional Mac mini with Thunderbolt 3 ports (rackmount chassis only)
Bandwidth
Thunderbolt interface: 40 Gbit/s
PCIe interface: 2,750 MB/s
Power supply
96W
Operating temperature
32º–95º F (0º–35º C)
Dimensions (H x W x D)
1U rack
Desktop chassis (with feet): 9.4 x 2.2 x 14.5 inches (238 x 57 x 368 mm)
Rackmount chassis (with rack ears and rails): 1.7 x 19 x 17.3 inches (44 x 482 x 439 mm)
Pricing
Pro Tools | HDX Thunderbolt 3 Desktop Chassis – $499 USD MSRP
Pro Tools | HDX Thunderbolt 3 Rackmount Chassis – $699 USD MSRP
If you are looking to put together a new system then Avid are planning a range of bundles for you to choose from.
Pro Tools Thunderbolt 3 Chassis Based Bundles
These bundles have been designed to enable you to set up your professional studio easily with a Pro Tools HDX Thunderbolt bundle that's fully assembled and ready to go.
Each bundle will include a Pro Tools HDX Thunderbolt 3 Chassis, one HDX card, Pro Tools Ultimate software, and your choice of Pro Tools hardware I/O interface with the bundles priced to offer savings over buying the items separately, plus, get over 70 AAX DSP plugins and a 1-Year Software Updates and Support Plan included with the Pro Tools Ultimate software.
These are the planned bundles so far…
Pro Tools | HDX Thunderbolt 3 HD OMNI Desktop & Rackmount Chassis – $7,999 USD MSRP
Pro Tools | HDX Thunderbolt 3 MTRX Studio Desktop & Rackmount Chassis – $9,999 USD MSRP
What We Think Of The Avid Thunderbolt 3 Chassis Solutions
For Mike, this announcement makes two in a row, first the Pro Tools MTRX Studio interface and now the Thunderbolt chassis which is available as a rack mount unit that can also take a Mac mini.
"As many of you know I have been squeezing every last drop out of my 2010 Mac Pro, changing the video card, adding an SSD and upgrading the processors, but for some time I have been looking for a new solution. In my situation, I cannot justify buying a new 2019 Mac Pro, but I have been following the Mac mini 2018 story with great interest and even before Avid made this announcement I was planning to get the existing Sonnet chassis in to test as for me the idea of a rack mounting a Mac mini with my HDX card in it, could make an excellent and cost-effective replacement for my old Mac Pro.
Overall it looks as though I am going to have an expensive time over the coming months but the combination of the rack-mounted HDX chassis with a Mac mini 2018, together with a Pro Tools MTRX Studio interface is going to set me up for at least the next 5 years."
Pricing And Availability
Avid has not announced pricing for either the desktop chassis, rack mount Thunderbolt chassis or the range of systems bundles, the message is 'coming soon', but we understand that will mean within the next 90 days just like the MTRX Studio.
About the author…
Mike Thornton has been working in the broadcast audio industry for all his working life, some 35 years as a broadcast engineer at Marconi and then Piccadilly Radio & Key 103. He has been an OB engineer for Piccadilly Radio… Read more
Pro Tools Thunderbolt 3 Solutions Coming Soon From Avid