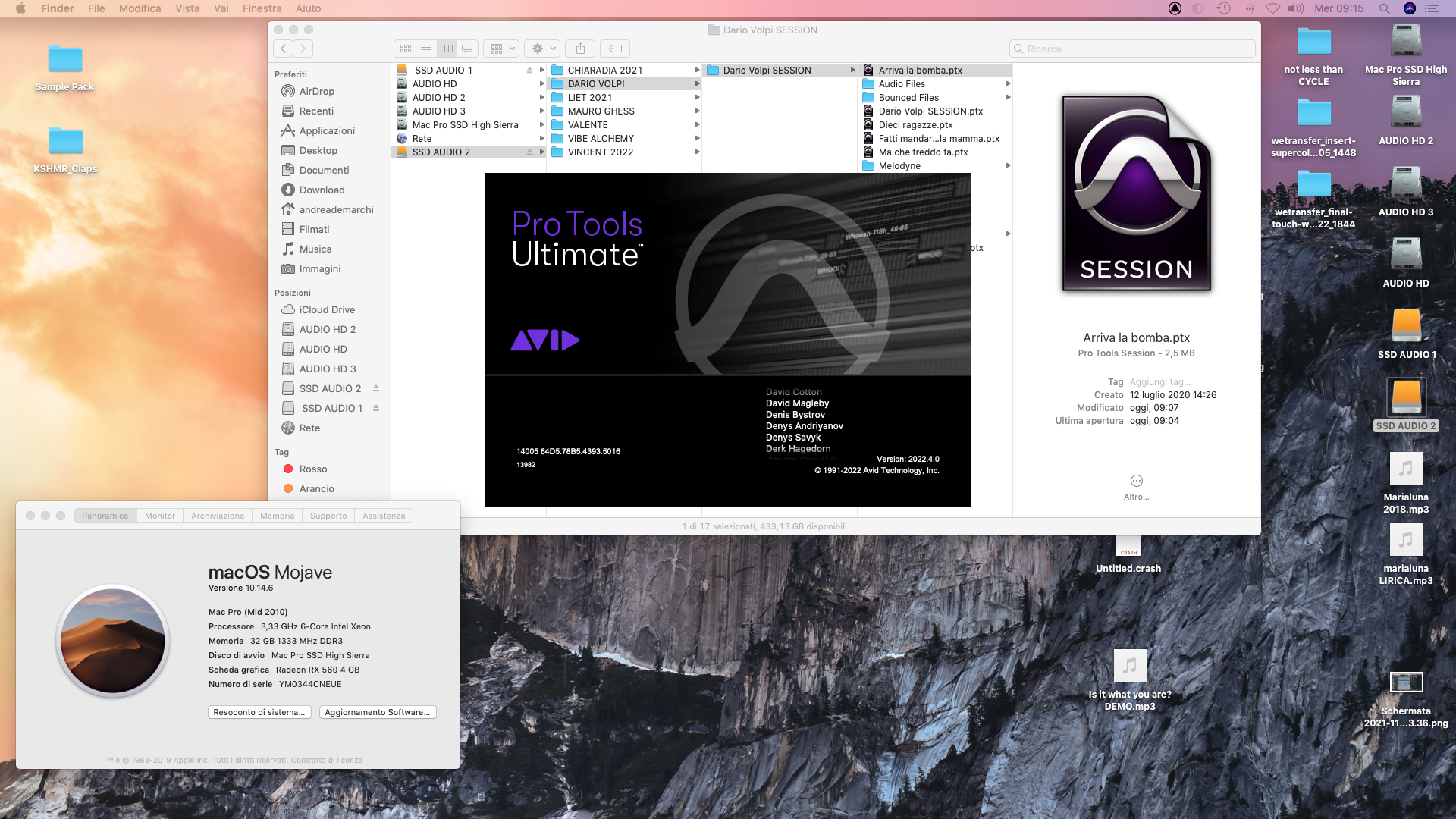 ---
Abbiamo aggiornato il nostro sistema Pro Tools | HDX con la versione Ultimate 2022.4
---
Enhancements

Tiers
Avid now offers three different subscription tiers for Pro Tools:
Pro Tools Artist
Pro Tools Studio
Pro Tools Flex (with Pro Tools Ultimate™ software)

UI
Improved vertical scrolling performance on macOS Big Sur and Monterey.

Key Commands
Assign custom keyboard shortcuts to almost any command in Pro Tools.

Search
Search for Pro Tools commands and items in the software by name.

Color Space
Enhanced color accuracy for both SDR and HDR video media, for a more accurate picture representation.

Dolby Atmos®
Duplicate Atmos Music Panner 1.2 (and later) plug-in automation to the Pro Tools pan lanes for delivery of the final mix in an ADM.
Standardized set of Dolby Atmos Groups for audio post production.
Dashboard
Getting Started tab in the Pro Tools Dashboard to help new users get started with Pro Tools quickly

Windows Audio Device (WASAPI)
Improved range of device support for Windows Audio Device, as well as performance enhancements.

EUCON
Support for the EUCON Assignable Knob (requires EUCON 2022.4 or later) including a new Pro Tools Preference Always Show EUCON Assignable Knob Highlight

Miscellaneous Features and Enhancements
Spot to Edit Insertion command improved and added to the Clips List menu
Auxiliary Input tracks default to solo safe mode
Converting an Auxiliary Input track to a Folder Track will remove the solo safe mode
Preference added to disable DSP Mode when disabling record/input monitoring
Bug Fixes

AAF
Mixed sample rate media will now convert to the session sample rate as needed when importing an AAF and choosing to link or copy media (PT-281948)
Audio Playback
Pre-recorded audio is now heard during the pre/post roll when using Low Latency Monitoring with the Allow Sends to Persist During LLM preference enabled (PT-268483)
Fixed a case that could cause audio not to be heard when soloing in AFL / PFL solo modes (PT-285507)
Cloud / Collaboration
Local projects ("Backup to Cloud" disabled) created on Pro Tools First can now be accessed by other tiers of Pro Tools on the same computer (PT-273492)
Control Surfaces
The panner no longer only shows the left channel if a stereo track is reassigned from stereo to mono/no output output and back with Avid Control (PT-284876)
Hidden folder members no longer remain on the surface when the the preference is set to hide them (PT-276944)
Meters no longer disappear when in PEC meter mode on the Avid S6 MPM module, after switching from Direct to PEC monitoring with record tracks unarmed (PT-280758)
The mute button on the Komplete Kontrol keyboard in non-mixer mode will now correctly display the mute state when tracks are switched (PT-279722)
Core Audio / ASIO / Windows Audio Device
Fixed an issue that would prevent Pro Tools from playing back after changing the Windows Audio Device input or output (PT-282610)
Fixed an issue that would prevent Pro Tools from playing back if only an input or output Windows Audio Device is defined (PT-283190)
Fixed a case where the M-Audio Producer USB microphone would cause distortion when used as an input under Windows Audio Device (PT-283191)
Reduced chances of the transport not beginning playback on some systems when using Windows Audio Device as the playback engine (PT-270728)
Fixed an access violation error that would occur when changing the playback engine from an ASIO interface to Windows Audio Device (PT-282980)
Pro Tools will no longer crash if no output is assigned under Windows Audio Device (PT-280855)
Pro Tools will no longer crash if different devices are assigned for input and output devices, with mismatched sample rates, under Windows Audio Device (PT-280778)
Windows Audio Device can now be claimed on a HP ZBook G7 Studio (PT-280776)
Clicking the Advanced button in the ASIO Control Panel will no longer cause 3rd party applications to crash when using HD | Native as an ASIO device (PT-237582)
A firmware update will now be prompted, if needed, when HDX is used as a core audio or ASIO device with a 3rd party application (requires 2022.4 HD Driver to be installed) (PT-273029)
Crashes & Errors
Fixed a crash that will occur when importing some AAF's (PT-284525)
Removing chiclets from Mic Preamps pane of I/O Setup window will no longer cause Pro Tools to crash when using the Pro Tools | MTRX Studio (PT-279106)
Fixed a crash or assertion that would occur on session open when Low Latency Monitoring is enabled with HD | Native (PT-279631)
Fixed a crash or hang that may occur when importing an MP3 (PT-285356)
Pro Tools will no longer crash when connecting to the Dolby Atmos Renderer with 11th and 12th generation Intel processors on Windows (PT-283892)
Fixed a crash that may occur when launching Pro Tools (PT-281817)
Fixed a crash that may occur when moving windows between displays (PT-276203)
Delay Compensation
Using a key modifier to enable Auto-Low Latency Mode (Blue Mode) on multiple tracks, will now only apply to track types that support this mode (PT-272106)
Dolby Atmos Workflows
Fixed a case where some Dolby Atmos group assignments could become unassigned after switching to Pro Tools group management (PT-280875)
Width changing plug-ins are no longer permitted on tracks that contain Dolby Atmos Object assignments in order to prevent downstream issues (PT-280547)
Editing
The playback cursor will no longer intermittently disappear when scrubbing the timeline (PT-278766)
Space Clips will no longer be stuck on a previously entered parameter value (Windows) (PT-278062)
Fixed a case where automation was moved by an incorrect amount when editing clips in Shuffle mode (PT-269825)
The Separate Clip operation on looped clips now correctly edit the clip contents (PT-255210)
Fixed an assertion caused by dragging and dropping an audio clip on a tick-based track while holding option+command (macOS) or alt+ctrl (Win) (PT-282354)
Clips no longer end up with the same name when drag and dropping an elastic audio clip from the clip list while holding option+command (macOS) or alt+ctrl (Win) (PT-282107)
In Tempo Operations > S-Curve and Parabolic, the Curvature setting once again updates correctly (PT-282291)
Export/Bounce
The MP3 file name character limit has been increased from 50 to 255 (PT-278329)
Bouncing multiple mix sources into a single BWF WAV file will now include Original Time Stamp metadata (PT-282335)
Clicking the "Choose…" button in the Export Clips as Files will now open the displayed location in the window, instead of the last used location, which may not have been from the current working session (PT-27855)
Audio-only MOV bounces will no longer contain the "IsTruncated=Yes" metadata attribute (PT-272272)
Import
Fixed a case where the wrong clips could be referenced when combining "Match Tracks" with "New Tracks" when importing session data (PT-280672)
Improved import time for some MP3 files (PT-285022/PT-284967)
Fixed an issue that could cause some MP3 files to be distorted after import (PT-283402)
MP3 audio will no longer be distorted when previewing from the Import Audio window (PT-280700)
Audio can now be imported from video files that contain J2k and 1:1 video codecs (PT-273031)
Import Session Data will now more accurately pull audio up or down with SRC on import (PT-241411)
Import Audio will now more accurately pull audio up or down with SRC on import (PT-273515)
Improved placement accuracy ruler items, such as markers and tempo events, when importing session data from a session at a different sample rate (PT-283386)
Installer
Avid Link will now detect when the HD Driver is already installed on Windows (PT-279403)
The Pro Tools installer will now properly update PACE License Support on Windows (PT-260788)
Track presets will now be installed on a non-administrator account (PT-276097)
Live Sound
"Create Session From VENUE" no longer fails with the VENUE HDx option card connected to Pro Tools (PT-230148)
Performance
Window scrolling performance has been improved and is much smoother on Big Sur and later, especially when sends view is visible (PT-283340/PT-273976/PT-280701)
Decreased frequency of CPU related playback errors on macOS (PT-268857)
Fixed a case where Pro Tools may hang for several seconds when using certain plug-ins on macOS Monterey (PT-279442)
Enabling input monitoring on a large number of tracks is now much faster (PT-273890)
Playlists
Fixed an issue where undo does not work for Clip Shuffle on alternative playlist (PT-278521)
Plug-ins
Pro Tools will no longer prevent certain plug-ins from loading on macOS Monterey, now that these plug-ins no longer cause Pro Tools to crash as of macOS 12.3 (PT-283474)
Fixed a case where some plug-ins would be unexpectedly inactive on session open when using HDX (PT-255155)
Text is once again visible in the Plug-in Automation dialog (Classic Theme) (PT-282714)
Pro Tools | Carbon
Fixed an issue where Pro Tools would occasionally lose connection with Pro Tools | Carbon (PT-278325)
HP and Line Outs are now recalled correctly when switching between sessions with different sample rates (PT-280415)
Pro Tools | Carbon preamp controls no longer disappear after disabling Avid PRE in I/O setup while Avid PRE input channels are mapped to Carbon inputs 1-8 (PT-284398)
Eliminated pops that may be heard on Pro Tools | Carbon's outputs during a firmware update (PT-281969)
Optical S/PDIF output is now compatible with the RME ADI-2 Pro (PT-279700)
Fixed an issue that could cause the clock source to be incorrect in AMS after restarting Pro Tools | Carbon (PT-277937)
Multiple clock source changes will no longer cause multiple messages after dismissing the H/W Setup window (PT-270554)
Recording
Fixed an issue that cause the first destructive punch pass' waveform to be visible after a session close and reopen (PT-273587)
Routing & I/O Setup
Dolby Atmos Objects are no longer selectable as default output busses (PT-281098)
Chiclets in I/O setup will no longer disappear when they are dragged out of range in the Mic Preamps tab (PT-283418)
Synchronization
A video reference mismatch warning will no longer appear if a session is not open (PT-259497)
Sessions created with no Sync X or Sync HD will no longer revert the clock source to internal when opened on a system with a Sync X or Sync HD (PT-275562)
UI
The playback cursor locator is now displayed in the correct color when tracks are not record enabled (Dark Theme) (PT-270249)
The Zoom Toggle button now shows the correct state when a session is opened (PT-282233)
Meters on VCA masters are now correctly drawn on macOS Big Sur and later (PT-279918)
Meters are correctly hidden when disabling Meters & Faders from Mix window view (PT-279639)
The playhead is now visible on newly created sessions when the scrolling mode is Continuous or Center Playhead on macOS Big Sur and later (PT-279425)
Clip groups once again correctly display their muted state (PT-276603)
Legibility of highlighted text in the Revision History window has been improved (Dark Theme) (PT-274693)
Bars|Beats timeline ruler no longer appear black after Identify Beat operation on macOS Big Sur and later (PT-274214)
Closing a session with the Edit or Mix window in full screen no longer results in graphic artifacts on macOS Big Sur and later (PT-282899)
Fixed an issue where waveforms may disappear when zooming in and out on macOS Monterey (PT-277283)
Insert and Send assignment menus correctly highlights the selection on macOS Monterey (PT-277248)
The playhead now updates properly during playback on macOS Monterey (PT-280625)
Video
Video files will now automatically be found on session open if the video files are in a sub folders within the Video Files folder (PT-274588)
The video window title bar now disappears when in full screen mode on Windows OS (UME-1607)
The video window full screen mode is now recalled properly upon session save and reopen (UME-1600/PT-281799)
Workspace
Fixed an issue that caused MP3 files to sutter when previewing in the workspace (PT-281949/PT-281063)
Preview an MP3 in the Workspace, from the center of the file, will no longer play from the beginning (PT-283995)
Miscellaneous
Pro Tools no longer waits an additional two seconds after the transport is idle to auto-save (PT-281778)
It is now possible to accept the Import Session Data window with the enter key if text is entered in the "Timecode Mapping Option" field (PT-283254)
Duplicated tracks will now display the same automation lanes as the original tracks (PT-238912)
Imported clips containing special 2-byte or FIGS characters are now correctly found in Clips List search (PT-253833)
Track Presets in the New Track dialog are now localized (PT-264528)
Folders and files are now correctly copied to the new location when Documents and Settings location is changed in Pro Tools preferences (PT-274699)
Output window Path Meter View can now be accessed with a newly added reveal button (PT-281950)
Pro Tools 2022.4 – Disponibile presso il nostro studio